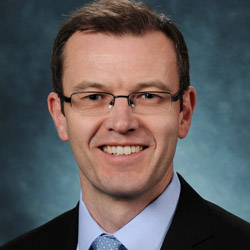 Contact
Position:
Associate Director, Basic Science, Cancer Cell Biology and Signaling Program Leader; Kalbach-Newton Professor of Cancer Research; Professor (tenured), Cancer Biology
233 S 10th Street
BLSB 524
Philadelphia, PA 19107
Research in the Aplin laboratory focuses on melanoma, a type of cancer which arises from the transformation of melanocytes.  The incidence rate of melanoma is rising and despite recent therapeutic advances, understanding how melanomas adapt and develop resistance to therapeutics remains a critical priority.  Since 2002, we have identified downstream targets of mutant BRAF signaling and investigated their contribution to malignant traits in melanoma.  We have shown that BRAF-MEK-ERK1/2 signaling differentially regulates two transcription factors, FOXD3 and TWIST1, and demonstrated the opposing roles of these transcription factors in melanoma invasion, growth and drug tolerance. Second, we have analyzed the determinants of therapeutic response and mechanisms of resistance to BRAF/MEK inhibitors and CDK4/6 inhibitors in subsets of melanomas.  To facilitate these efforts, we have developed novel models to quantitatively measure ERK1/2 signaling in melanoma tumors in vivo.  These studies are translating through to new clinical trials targeting ErbB3 adaptive responses in order to optimize MEK inhibitor treatments in melanoma and next-generation BRAF inhibitors in mutant BRAF solid malignancies. Through collaborations, we are extending our studies into ocular/uveal melanoma and translating our studies on the metastatic tumor microenvironment and regulators of dormancy and aggressive disease into new clinical trials.
Research Projects
Mechanisms if response and determinant of resistance to targeted therapies
Effect of targeted inhibitors on the tumor immune
Biology of uveal melanoma