Contact
Position:
Pharmaceutical Science
1020 Locust Street
Room 230A
Philadelphia, PA 19107
Our laboratory has made significant contributions toward the development of biodegradable transdermal and nanoformulations based approaches for controlled delivery for a range of active pharmaceutical ingredients (APIs) with low bioavailability. We have significant expertise in using natural (proteins and polysaccharides) and semi-synthetic (Silicone, PLGA, PVA, methylcellulose, and others) biomaterials for developing implantable and transdermal formulations. Being a good laboratory practice (GLP) compliant laboratory, we have been working with different pharmaceutical companies for the development of sustained released in contraceptive implants and related drug delivery systems. In collaborations with clinicians, we have developed various High Performance Liquid Chromatography (HPLC) and Liquid Chromatography-Mass Spectrometry (LCMS) based quantitative stability indicating methods, pharmacokinetic (PK) and tissue drug distribution profiles in humans and animal models. Our laboratory provides a necessary platform for the development and bioanalytical characterization of controlled release formulations. Currently our lab is also working on the development of external stimuli induced semi-solid (hydrogel) implantable dosage form as a controlled delivery system for cancer therapy.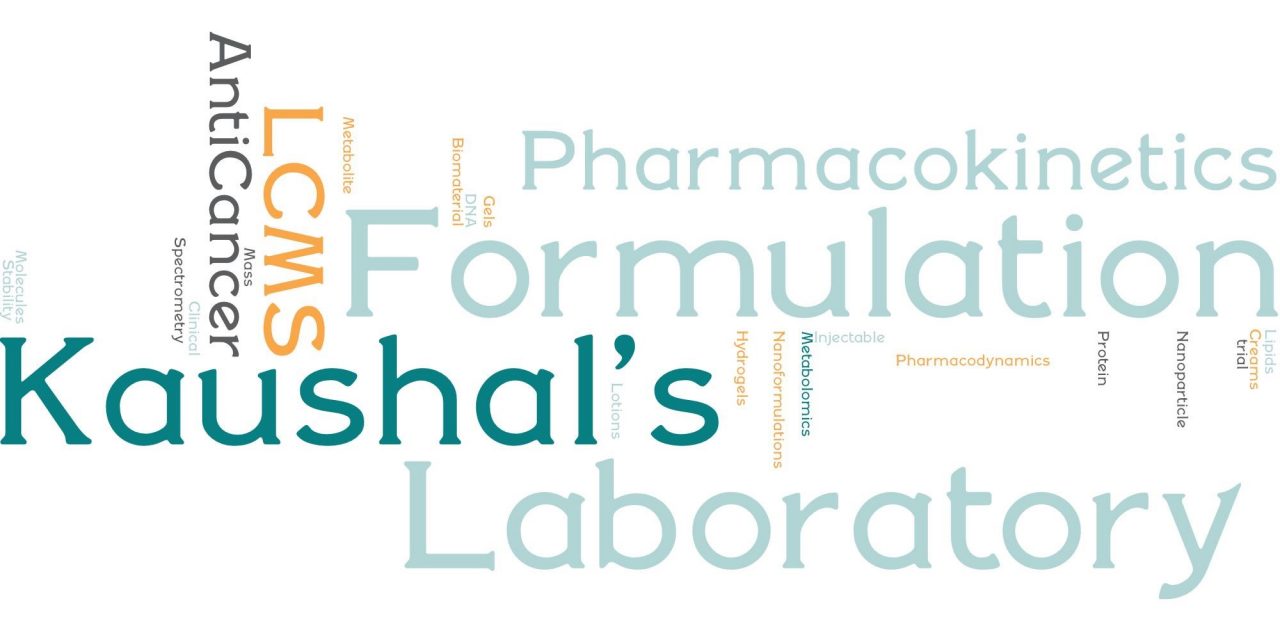 The focus of my research is in the area of drug formulation and product development for therapeutic agents, including existing drugs and new proprietary compounds.  My laboratory has been successful in generating physical characterization data essential for product development of a number of pharmaceutical compounds for our industrial and academic partners, resulting in improvement in delivery of safe and effective medication therapy.  
Research Projects
Rheology of semisolid dosage form as a sustained delivery system

Viscoelastic nature of hydrogel systems from various synthetic & natural polymers are evaluated using in house rheometer for anticancer, tissue regeneration and contraceptive applications. Studies indicate that it is possible to control the drug release from this hydrogel system by manipulating pH and temperature conditions of these gel systems for various disease conditions.
Pharmacokinetics of polar and hydrophobic the active pharmaceutical ingredients (APIs) in the various biological matrix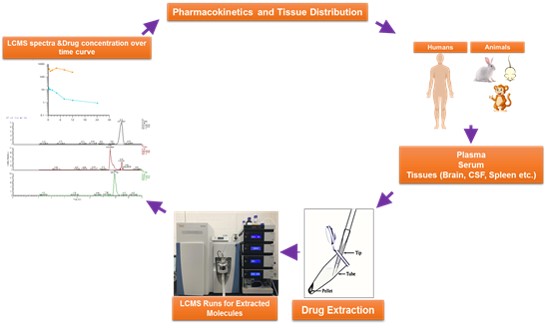 Basic LCMS workflow for PK/PD Studies using LCMS
Pharmacokinetic profile of sedative and hypnotics in critically ill patients on ECMO
PK profile of novel anti-cancer molecules in preclinical mice or rat models
PK and tissue distribution of solid and semi-solid dosage forms in mice models
Stability and Drug release kinetics of APIs under in vitro, ex vivo and in vivo conditions
LCMS based force degradation or stability indicating studies for new chemical entities or known drug molecules.
LCMS or HPLC based accelerated stability studies under various temperature and humidity conditions for formulations.