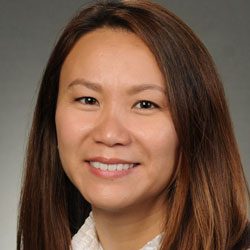 Contact
Position:
Assistant Professor
1025 Walnut Street
603 College Building
Philadelphia, PA 19107
Dr. Dang  earned her PhD in Molecular Medicine from Penn State University followed by an outstanding Postdoctoral Fellowship at the National Cancer Institute (NCI). She began her own lab at TJU's Department of Surgery in October 2018 focusing on oncogenic RNA binding proteins in hepatocellular carcinoma (HCC). Highlighted achievements include the discovery of a novel RNA binding protein (RBP) gene signature that predicts treatment response in liver cancer patients, planning and development of national and international collaborations, and execution of many large-scale studies. 
Research Projects
Integrative Functional Genomics
We are interested in utilizing several areas of RNA biology, translational, bioinformatics, and molecular biology to identify key oncogenic RBPs involved in transcriptomic alterations associated with disease states. For example, we have recently identified Argonaute 2 (AGO2) as a possible oncogenic RBP that can promote an HCC transcriptome in a RISC-independent manner. By utilizing transcriptomics, we are modeling how activated AGO2 preferentially affects mRNAs by enhancing their stability in HCCs driven by AGO2. We're now elucidating how AGO2 promotes HCC progression by directly interacting with mRNA targets independent of miRNAs.
Post-Transcriptional Regulation
The central focus of our research is investigating the dysregulation of mRNA binding proteins (mRBPs) in hepatocellular carcinoma (HCC). Our recent work identified Negative Elongation Factor E (NELFE) as an oncogenic RBP that is associated with poor clinical outcome in more than 1200 clinical specimens. We identified the novel mechanisms in which NELFE enhances the oncogene MYC to promote tumorigenesis. We are currently interested in how NELFE interact with and regulate their RNA targets through modular domains such as low complexity sequences (LCS) and RNA recognition motifs (RRMs).
Translational Science
Tumor heterogeneity represents a significant barrier to improving HCC patient outcome and poses a challenge for the establishment of robust HCC classification, making treatment extremely difficult. Consequently, the ability to discriminate patients with greater homogeneity and clinically relevant therapeutic targets will help guide treatments to improve patient outcome. We have developed a robust 20-NELFE dependent MYC (NDMPOS) gene signature, which reflects the biological characteristics of HCC. We are interested in utilizing genome-wide CRISPR/Cas9 screens to identify therapeutics for this specific subtype. In collaboration with others, we have developed a MYC-induced NELFE HCC Sleeping Beauty mouse model (Trp53flox/flox; Alb-Cre) and in vitro cell models, such as patient derived cell lines that can be used to validate targets.