Melanoma Research Institute of Excellence
The Melanoma Research Institute of Excellence (MRIE) at the Sidney Kimmel Cancer Center is a comprehensive program that works to expand the depth and breadth of uveal melanoma and skin melanoma research. Among its aims are to accelerate the development of novel research initiatives and facilitate multidisciplinary collaborations in melanoma research. Through lab-based, clinical, genetic, and population-based studies, the MRIE is unlocking insights previously unattainable.
The MRIE encompasses the Melanoma Program, a multidisciplinary group within the Sidney Kimmel Cancer Center that offers patients current treatments for skin and eye cancer and conducts a multitude of both industry-sponsored and investigator-initiated clinical trials that makes new research available to patients. The Program employs a staff of clinical research coordinators and data managers, who are vital to the conduct of these studies. A hallmark of the Melanoma Program is the high level of personal, compassionate care provided to patients by physicians and research staff. 
The goal of the MRIE is Simple
Better prevention, diagnosis, and treatment strategies for melanoma patients at the Sidney Kimmel Cancer Center and far beyond.
Patient Care
Patient care is at the heart of all activities and initiatives undertaken by the MRIE and the Melanoma Program. Our physicians, researchers and staff are dedicated to providing compassionate, first-rate care to our patients and to investigating and developing new treatments to combat and find a cure for melanoma.
Research Program
The MRIE brings together uveal (ocular) melanoma and cutaneous (skin) melanoma specialties with the aim of fostering new, cutting edge research that will provide patients with next-generation therapies. The Melanoma Program conducts both industry-sponsored and investigator-initiated clinical trials, providing patients new, investigative treatment options.
Clinical Trials
Our clinical trials provide patients who may have limited standard of care (FDA-approved therapies) options an opportunity to participate in new, investigative treatments.
For information about melanoma clinical trials at Jefferson, please email CTO-Melanoma-Research@jefferson.edu or call our trials team at 215-955-9980.

MRIE Grants & Awards
Made possible through the generosity of benefactors, MRIE grants provide funding to worthy SKCC investigators and their collaborators to conduct innovative melanoma research.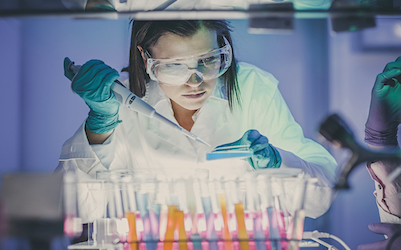 Pilot Awards
Pilot Awards provide funding which supports researchers to develop innovative solutions that will prevent, delay, eradicate and/or provide education about uveal and cutaneous melanoma.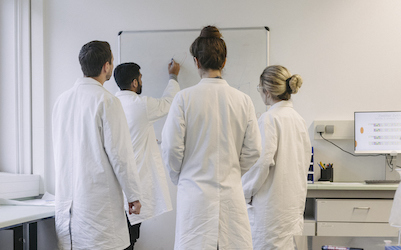 Team Award Program
Team Awards provide funding to support collaborative teams in exploring new frontiers in uveal and cutaneous melanoma research.