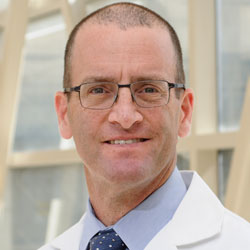 Contact
Position:
James C. Wilson Professor of Medicine
1015 Chestnut Street
Suite 317
Philadelphia, PA 19107
The focus of my own research and that of my research team has centered around two main interests:
Investigating effective treatments, care processes, and management strategies for heart failure patients.
Improving clinical research processes and infrastructure to minimize the burdens for physician-researchers who strive to conduct meaningful, high-impact clinical trials that will improve the care and treatments available to our patients.
Research Projects
Establishment of the Jefferson Clinical Research Institute (JCRI)
Recognizing the potential barriers and unique challenges facing physicians who choose to pursue clinical research, my efforts have focused on clinical research methods, as well as the streamlining and centralizing of clinical research processes. To that end, the Jefferson Clinical Research Institute (JCRI) was formed with the mission to provide a centralized service-line approach to cutting-edge, highly effective, and compliant clinical research. The team at JCRI consists of a business operations unit that manages budget development and grant administration, an operations management unit that oversees clinical research processes and quality, including JeffTrial, REDCap, and clinical research training at Jefferson, and finally, the clinical operations division to support Jefferson faculty investigators in implementation of all phases of clinical research, from proposal development to preparation and dissemination of deliverables.  Together, the team works to ensure efficient operations and promote best practices in clinical research activities throughout the university.
Exercise and Cardiac Rehabilitation in Heart Failure Patients
As a result of my early research evaluating the effects of cardiac rehabilitation as a treatment strategy for patients with heart failure, I was Co-PI of the NIH funded HF-ACTION (Heart Failure: A Controlled Trial Investigating Outcomes of Exercise Training) trial, which was a multi-center randomized trial examining the effects of aerobic-type exercise training on all-cause mortality, all-cause hospitalization, and quality of life. HF-ACTION was the first large-scale randomized trial to examine regular, structured, exercise interventions in a patient population with chronic heart failure. This trial resulted in over 60 publications and provided the evidence to support the Centers for Medicare & Medicaid Services 2014 decision to expand coverage for cardiac rehabilitation to beneficiaries with stable chronic heart failure. This work has influenced my continued interest in the association between exercise interventions on patients with heart failure.
Heart Failure Disease Management Strategies
Heart failure is a chronic condition often managed by a complex combination of medication, dietary, and lifestyle interventions. My research has included evaluation of telemonitoring, device diagnostic systems, heart failure biomarker data, disease management programs and strategies, and palliative and hospice care for end-stage patients. My goal has been to employ a multidisciplinary and multi-faceted approach to address the shifting needs of the heart failure population and identify strategies to improve both clinical and quality of life outcomes.
Vascular Disease Prevention and Treatment
The high burden of vascular disease, including coronary and peripheral diseases, along with its common occurrence as a comorbid condition with heart failure, has led me to research focusing on its prevention and treatment. In particular, my research has examined the role of platelet activation in the disease process, including multiple publications on the role of aspirin and methods to improve adherence and minimize side effects. Specifically, I have been involved in clinical trials investigating the efficacy of a novel coordinated-delivery formulation of aspirin to prevent gastric ulcers, and the safety and efficacy of thrombin receptor antagonist vorapaxar in acute coronary syndrome. This focus on coronary artery disease has expanded to include research in coronary bypass surgery and carotid artery disease.