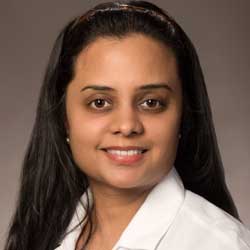 Contact
Position:
Research Instructor
Organization:
Department of Surgery
1015 Walnut Street
Curtis Building, Room 618
Philadelphia, PA 19107
Dr. Aditi Jain is a Research Instructor in the Department of Surgery at Thomas Jefferson University.
 Dr. Jain obtained her PhD in Pharmaceutical Sciences with a focus in Cancer Biology at Idaho State University in Pocatello, Idaho in 2013. She later completed her postdoctoral fellowship in the laboratory of Dr. Jonathan Brody at Thomas Jefferson University.
Since her appointment as a Research Instructor in 2020, she has been working in the Jefferson Pancreas, Biliary and Related Cancer Center, and in the newly founded Pancreatic Cancer Research Institute (PCRI). Dr. Jain's current research is focused on understanding the role of DNA repair proteins in pancreatic ductal adenocarcinoma (PDAC) progression and therapy resistance, with a long term aim to potentially uncover novel therapeutic strategies for this deadly disease.

July 14, 2021

Dr. Aditi Jain is a recipient of a Pancreatic Cancer Action Network Early Career Development Award
Research Projects
Project 1: Role of BARD1 in Pancreatic Ductal Adenocarcinoma (PDAC) Progression & its Mechanism of Regulation

Pancreatic ductal adenocarcinomas (PDAC) are, in general, genetically unstable and highly reliant on DNA repair proteins for survival and evasion from chemotherapeutic exposure. Our lab is particularly interested in understanding the role of DNA repair proteins, specifically BARD1 (BRCA1-Associated-Ring-Domain-1) in PDAC progression and how targeting this protein either alone or in combination with other therapies could prove beneficial for PDAC treatment. We are interested in understanding how BARD1 protects cancer cells from DNA damage and whether it imparts drug resistance. We are also interested in understanding downstream signaling pathways regulated by BARD1 in pancreatic cancers with a hope to uncover novel therapeutic strategies targeting this protein. For our studies, we routinely utilize molecular and cell biology techniques, RNA-sequencing, and animal models of PDAC.
Project 2: Resistant Mechanisms of PARPi Therapy/Platinums
Poly (ADP ribose) polymerase (PARP) is a DNA repair enzyme that also plays a role in inflammation, regulation of cell death, transcription and modulation of post-transcriptional gene expression. In 2019, olaparib (PARPi) was approved as a maintenance therapy for metastatic PDAC harboring mutations in BRCA1/2. However, emergence of drug resistance is a concern. Our research is focused on elucidating these resistance mechanisms in PDAC using biochemical, molecular and cell biology tools. We have created acquired PARPi resistant models and also have access to patient derived cell line models to conduct our studies.