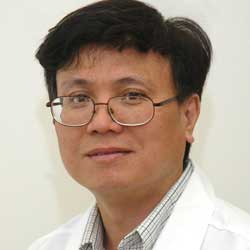 Contact
Position:
Assistant Professor of Medicine
1020 Locust Street
Room 425F
Philadelphia, PA 19107
Dr. Hongpaisan's research focuses on studies of spatial learning and memory loss accompanied by neuronal degeneration, normal again, and Alzheimer disease. We focused on understanding the molecular cell signalings involve in mitochrondria dysfunction, growth factors and underlying morphological changes of microvessels and neurons induced by oxidative stress.
Research
Our lab has investigated some of the most important aspects of spatial learning and memory accompanied by neuronal degeneration and synaptogenesis in normal aging, Alzheimer's disease, and cerebral vascular changes associated with dementia and memory loss.  Our lab main focused is to understand molecular cell signalings, mitochondrial dysfunction, oxidative stress, growth factors, and the mechanism of morphological changes of microvessels and neurons.  We are developing broad experiences in human autopsied brains, cultured cells, normal animals, Alzheimer's disease-transgenic mice, vascular dementia, and aging pre-clinical models focusing on diagnostic markers and drug discovery. Our current research aimed to  understand the cellular and molecular mechanisms mediating microvascular pathogenesis and neurovascular remodeling in normal aging and Alzheimer's disease complexed with cardiovascular disease.